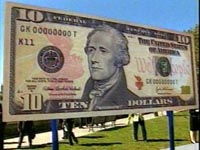 To thwart the on going problem of counterfeiting, Treasury Secretary John Snow unveiled the new 10 dollar bill at a ceremony on Ellis Island. Early next year they will begin circulating the new currency. The $100 bill, the most counterfeited of them all, is next on the slate and is scheduled for release in 2007. I don't understand why they didn't do the $100 first.
Red, yellow and orange, oh my. So much for the "greenback".
Hooray for the red, yellow and orange! Those are the colors featured on the newly redesigned $10 bill, the third currency denomination to add splashes of color to the traditional green of U.S. currency.

...

The location was selected to highlight one of the bill's new features — a red image of the Statue of Liberty's torch on the left side of a revised portrait of Alexander Hamilton (search), the first secretary of the Treasury, who is shown without the traditional oval frame around his portrait.

Also highlighted in red is the phrase from the Constitution "We the People" on the right side of Hamilton's portrait. The bill overall has a subtle orange background. The yellow is seen in small 10s around the torch on the front of the bill. There are also small yellow 10s to the right of the U.S. Treasury building, which remains on the back of the bill.

...

Other security features of the $10 bill, which were introduced in an earlier makeover, include a plastic security thread that repeats "USA Ten" in tiny print. There is also a watermark that can be seen when the bill is held up to the light, and color-shifting ink that makes the numeral "10" to the right of Hamilton change color from copper to green when the bill is tilted.