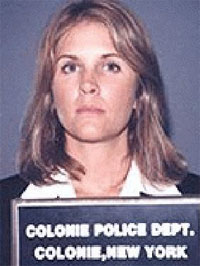 Sandra "Beth" Geisel, 42, Former English teacher at Christian Brothers Academy, was sentenced on Monday to 6 months in jail -- with time served -- and 10 years probation for the rape of a 16-year-old. She pleaded guilty to 1 count of rape under a plea agreement and will have to register as a sex offender. She will be sentenced in November.
Geisel was accused by another student after being charged in the 16-year-old's abuse case and fired by the school in June for having sex with a 17-year-old student. There were no charges in the 17-year-old's case because he was of the age of consent.
Geisel was released on $20,000 bail, but arrested on a DWI charge and bail was revoked. As reported in an entry from September 19, 2005 this plea deal was expected.
Sandra "Beth" Geisel was charged with three counts of rape and one count of performing a criminal sexual act. On Monday, she pleaded guilty to one count of rape as part of a plea agreement.
You can see other offending teachers in the Diggers Realm Sicko Archive
Tipped by: Interested-Participant via The Jawa Report