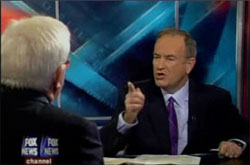 Bill O'Reilly had Phil Donahue on the
O'Reilly Factor
on the Fox News Channel and lit into him over his support of Cindy Shehan and her outrageous radical views.
Crooks and Liars has the video. The video is 9.8M .wmv about 8 minutes long and well worth the download even if you are on dialup.
A lot on the left claim a Donahue "victory", but I didn't see a winner either way.
Tipped by: The Moderate Voice, where Joe Gandelman analyzes the giant personalities involved and their mastery of the format.
Newshounds has a transcript up. Here's how the battle begins.
O'REILLY: In the past Miss [Cindy] Sheehan has criticized Israel, saying it is occupying Palestine, has called Iraqi insurgents "freedom fighters," has accused Americans of killing people ever since we stepped on this continent, has threatened Hillary Clinton with the loss her job unless she calls for a pullout of US troops from Iraq and has called the US action against Afghanistan a failure. Quite a resume and with us now is Phil Donahue, who supports Miss Sheehan's "dissent." So, I'm assuming you don't - you don't support all her positions that I just chronicled.

DONAHUE: Let's understand what's happening here. Once again we have a woman who got to be just a little too famous for the people who support this war, a minority of the American population, by the way, and so the effort to marginalize this woman is underway and you're helping out.

O'REILLY: I'm the leader of the pack!