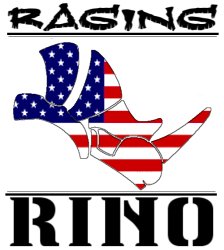 For those of us who aren't blinded into total and blind subservience to the Republican party, there are
The Raging Rinos
. Organized by
The Commissar
over at
The Politburo Diktat
back in June, 2005, The Raging Rinos have blossomed over the months. The group consists of people in the Blogosphere who are independent and right-of-center thinkers who haven't "drank the Party Kool-Aid on every single issue". I'm proud to be joining this group and that they've let me in. With my stance on
immigration reform
, my take on the
Schiavo case
and my views on
outsourcing
Diggers Realm is a perfect fit.
I'm sure most of you have ended up at some other Raging Rino sites without even realizing it. Check out the blogroll below. From now on it will be permanently on my right navbar.
If you are interested in this group you can find more information at the TTLB community site for the Raging Rinos.