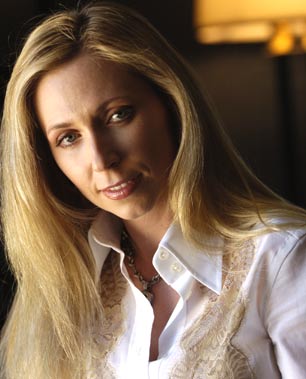 Rusty over at
The Jawa Report
has uncovered some disturbing revelations about one of the latest apprentice stars. According to
The Smoking Gun
, Alla Wartenberg (AKA Alla Kosova) a 31-year-old Russian immigrant, has been tied to not only a previous life as a stripper and "escort", but also to driving a man to kill two Oregon women and a California man during botched robberies. Wartenberg claims her millions have come from running spa businesses in Las Vegas.
Left off Alla's online c.v. is her work at the Palomino Club, a Sin City strip joint where the female talent works topless and bottomless. Wartenberg (nee Kosova) once hustled $40 lap dances under the pseudonym Ecstasy (just "X" to her friends). It was during her Palomino days that Wartenberg developed a "pretty platonic relationship" with a regular named Robert Acremant, a California businessman who would pay her between $500-1500 (and sometimes more) for an evening's worth of dances and company in the private Lipstick Lounge.

She occasionally would have dinner with Acremant, who once gave her a pair of diamond earrings and also provided Wartenberg with about $500 to gamble. It was this courtship of Wartenberg, investigators would later contend, that drove a desperate Acremant--who needed money to spend on his favorite Vegas stripper--to plot the 1995 robbery of two Oregon women. That attempted heist ended with Acremant killing the duo. He also murdered Scott George, a California friend, in a second botched 1995 robbery bid. Convicted in the slayings, Acremant has been sentenced to death in both California and Oregon, where he is currently imprisoned. According to investigators, Acremant considered Wartenberg his girlfriend, while she saw him as nothing more than a cash machine, a pleasant mark with whom she shared her phone number, but no intimacies.
Tipped by: The Jawa Report, where Rusty has more pictures.
Other Commentary:
The Apprentice's Alla Wartenberg Page
The Smoking Gun has the court transcripts of the murder trial.
Alla Wartenberg's official website
Alla Wartenberg's Apprentice Audition Tape
What does Mr. Trump think of All being en entertainer? Will she be kicked off The Apprenice?
-Chris Werner
Posted by: Chris Werner on December 1, 2005 01:40 PM