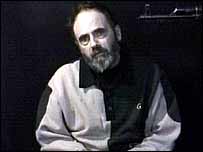 Roy Hallums is aboard a plane and headed back to the US. Welcome home Roy!
Roy Hallums, the American businessman who was freed in Iraq this week after being held hostage for 10 months, is on his way back to the United States.

The U-S military says Hallums has boarded a plane from an Air Force base north of Baghdad. No further information on his travel plans were provided. He has family in Southern California.
The Jawa Report has more.
A friend of Roy's from Baghdad, 'Hussein', possibly the last man to see him before he was taken hostage, told the following to the BBC upon learning of Roy's release. A friend from the FBI called him and said, "Sit down and don't cry. We have Roy. He is alive."

"No-one seemed to mention him or to care. It's so unfair." He continued.
For all the coverage on Diggers Realm see the Roy Hallums Archives