One of the strangest sites I've happened upon is
Sugar Bush Squirrel
. It's really quite humorous. I found it via
Ratty's Ghost
who was poking fun at it. This site is owned by a woman who dresses up her little squirrel in outfits and sorta blogs about them. For instance below are a few pictures of the squirrel in action.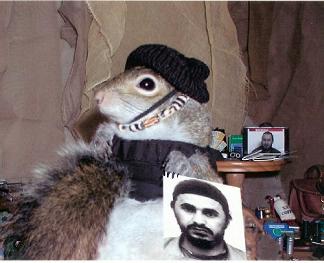 Sugar Bush Squirrel Captures Abu Musab al-Zarqawi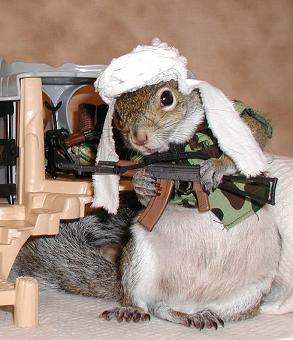 Sugar Bush Squirrel on The Hunt For Bin Laden
From the website:
Being an International Superstar and The World's Most Photographed Squirrel, Sugar Bush loves to dress up, and has over 1,000 outfits with matching hats and accessories. Sugar Bush Squirrel has her own, posh studio with an elaborate stage and thousands of stage props, and has posed for over 1,000 photos since her modeling career began. As News Anchor of SNN-The Squirrel News Network, she has turned the catch phrase, 'you've been squirreled' into an overnight success. It is fast becoming her very own, international, household expression.
One of the strange things is that I found a couple pictures from my
Al Asad Sandstorm
entry on Sugar Bush Squirrel. Coincidence or is the owner stalking me?