| | |
| --- | --- |
| By / April 1, 2005 10:36 AM | |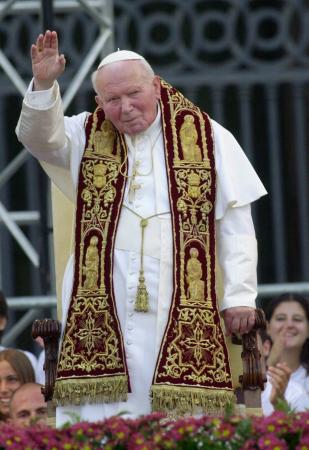 Fox News has just announced that Pope John Paul II has died at the age of 84.
* * *
Update: (10:58AM PST)
The Vatican is denying that the pope has died, but there is no doubt he is very close to death. The Vatican says the popes brain and heart are still functioning.
See also:
Hyscience
Outside The Beltway
The Jawa Report
Ramblings' Journal (great pic!)
Michelle Malkin who has more on the succession
Pope Given Last Rites
Pope Suffers Heart Attack



This entry is in the following archive(s):
Next and Previous Entries:
Posted by Digger on April 1, 2005 10:36 AM (Permalink)

Dan, all the reports I am reading and am getting from Italy indicate that Pope John Paul II is very ill and dying(as of this minute), but not dead. Sources, including online media, indicate that there is no hope of recovery.
Posted by: Richard on April 1, 2005 11:54 AM