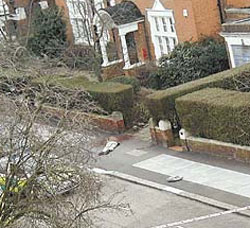 A man living in the exclusive London neighborhood of Eton Avenue near Belize Park viciously attacked his 60-year-old neighbor with an axe and methodically landed blow after blow.
The Eton Avenue, Belize Park area is an exclusive street comprised of multi-million dollar properties and the home to celebrities such as Jude Law and Gwyneth Paltrow.
The axeman, smartly-dressed and in his thirties, felled his victim with one blow and then struck repeatedly "as if he was chopping wood".

The assault lasted several minutes near the Hampstead Theatre in Belsize Park. The attacker ignored his victim's screams and the pleas of two women passers-by and workmen. He stopped when police arrived. He then put down the axe near the body. He was described as looking "emotionless and cool" throughout.

When asked why he had done it, he told officers: "It's complicated. It's private."

...

A scaffolder working nearby saw a man carrying an axe in one hand above his head as he ran towards his victim. The men were seen to exchange a few words.

Seconds later the axeman struck the first of a series of heavy blows which continued when the victim lay slumped on the pavement in a pool of blood.

The workman said: "It was unremitting. The man with the axe ran at his victim and just laid into him.

"He brought it down on his head and floored him. The victim had tried to defend himself with his arms and I heard him shout something. But it was hopeless.

"Within seconds he was on the floor and his head had been split open. There was blood pouring from his head and spilling onto the pavement. It was horrific."
Tipped by: Six Meat Buffet who has a commenter that notes Britains famous anti-gun laws.