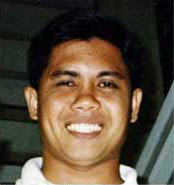 The terrorist group
Jeish al-Mujahideen
, which is holding hostage Roberto Tarongoy, has apparently lifted a deadline they set to murder the hostage. Initially the group said if their demands of $10 million and the pullout of 6,500 Filipino's by Friday that they would murder Tarongoy. Yesterday I covered President Arroyo of the Philippines allegedly
setting up a ransom payment of $6 million
for the hostage. The coverage of this throughout the news and direct negotiations with the terrorist group are likely the catalyst for the announcement of a delay in the deadline they have set.
Hostaged Filipino worker Roberto Tarongoy gained a new lease on life Saturday after his Iraqi abductors lifted anew a deadline to execute him.

Foreign Affairs spokesman Gilbert Asuque disclosed the development in an interview over radio station DZMM.

Asuque announced the development a few minutes after 5 a.m. on Saturday or just an hour after the last deadline lapsed at 4 a.m., Manila time.

... Asuque did not say for how long Tarongoy's reprieve will last. Neither did Asuque disclose whether concessions from the Philippine government helped soften the stance of the hostage takers.
For more coverage on Diggers Realm see the Roberto Tarongoy Archives.
i hope arroyo will not make the same mistake she did the last time and prove the filipino people they made a big mistake voting her.
Posted by: Zuey on March 22, 2005 05:40 AM
I don't like Arroyo.
I don't agree with her goverment.
Posted by: Diosa Nidua on March 23, 2005 02:51 PM