For those of you who don't see the history in this completion of a flight around the world without refueling let me put some things into perspective. Think back to the Egyptians in some small rags as they dragged a block to the great pyramid. Think of a dirty roman soldier, returning from battle, walking down the Appian Way and looking up at the sky. Think of Christopher Columbus as he first saw land after his long and unknown voyage that was based on his belief that there actually would be land. Think of the stagecoaches as they crossed the prairie headed west into the unknown. Think of the Wright brothers finally managing to fly a few feet. Think of Charles Lindbergh flying across the Atlantic.
Now after you have thought of all of that think of a plane flying for 80 hours, non-stop and without refueling, as it crossed over all of this history. Imagine any of those historical humans that we have come to know looking into the sky and seeing this or hearing of this second hand. This is true history and no matter how the media tries to downplay it as just "some rich guy with his toy" remember that all of these great feats in the past cost a lot of money as well and are now looked back on as simply incredible achievements in the history of mankind.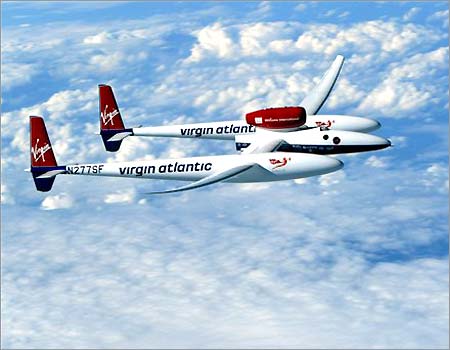 Millionaire adventurer Steve Fossett has completed the first solo around-the-world flight without stopping or refueling.

"I'm really starting to perk up, now realizing that I'm getting close to the end," Fossett said earlier in the day after crossing into U.S. airspace over Los Angeles.

Fossett landed in the central Kansas town around 2:47 p.m., a feat that made him the first person to circumnavigate the globe alone without stopping or refueling.

A fuel system problem had raised doubt Wednesday whether Fossett could complete the 23,000-mile journey. But Fossett played down the problem overnight, and he and his flight crew agreed to keep the GlobalFlyer in the air rather than abandon the attempt and land in Hawaii.