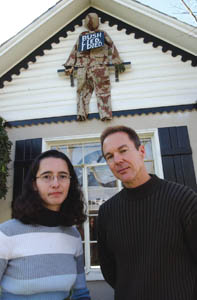 I have been sent exclusive photos from the previous tenants of Steve and Virginia Pearcy's home in Sacramento. If you're not familiar with the Pearcy's, they are the Berkeley couple that hung an effigy of a soldier by a noose from their second home up here in Sacramento (for more past coverage see
The Stephen And Virginia Pearcy Archive
). While this story has disappeared from the main stream media -- and across the web -- I feel that it needs to be told. Imagine you are living in a house you have rented from a landlord and hang a sign in your window only to be punished by a big ugly sign being put on your lawn and an Iraqi Flag flying from a flagpole one day when you come home.
Here is an email I received from one of the girls that was renting the house and the photos she sent me. I don't think she is being vindictive at all I just believe she was truly shocked at all that went on when all that these girls wanted was a safe place to stay and live in.
Below is the email I received and their side of the story.
Hi there...here's a few pictures from the Pearcy home. I was renting the home from Steve & Virginia during the election, and came home one night to find the flag & sign displayed out front. I lived there w/ 2 roommates; all of us are republican. This junk just happened to show up after Steve found out we had displayed a Bush/Cheney 8.5"x11" printout in the front window...

I don't know if you've heard about the three of us & what went on during our lease- needless to say, we couldn't move out of there soon enough. Just so you can see that we are three normal gals, I've included a photo of myself & my roommates. I don't really care if you use it or not...just thought it might help you in getting the story out to know who this is coming from!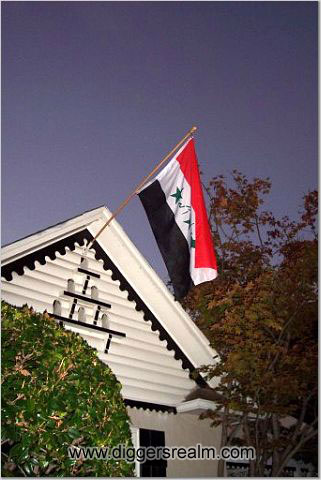 As you can tell they're not some over the top Bush supporters, they simply put a printout in their window around election time.
If all of the above is true, Steve and Virginia Pearcy clearly felt they needed to bully their tenants -- and their neighborhood -- to show them who was really the boss and had the final say so. As noted before in a letter from a neighbor of the Pearcy's, they only did this to their rental home and not to their primary residence in Berkeley. Quite clearly they had no problem with setting up their protest on their rental home and ensuring that the girls in the home got all the bad looks and angry outrage.
It has been suggested by commenter Kevin Murphy in my previous entry on the story that the tenants may have grounds for a lawsuit because this is not a primary residence, but a rental property, and may fit under commercial real estate laws. Below is the full comment from Kevin Murphy.
RENTAL PROPERTY???

I'm not a lawyer, but I do know there are different rules for business behavior than there are for personal behavior.

I seem to recall that in California a Christian landlord could not require his cohabiting tenants to be married, or in another instance heterosexual. Surely putting signs up with derogatory words for homosexuals would have been illegal.

Further, a lessee has a right to "quiet enjoyment" of the property during the lease term, and the lessor, in particular, cannot interfere with that.

Additionally, commerical signage laws may apply.

In short, the fact that the Percys do not live in the house, and have rented it, changes everything.

- Kevin Murphy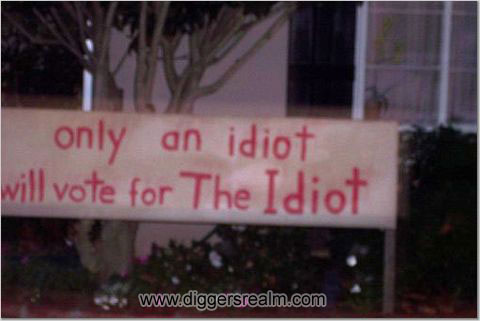 Above are two photos of the tenants photo after the election
In the previous entry with the letter from the neighbor of the Pearcy house the writer wrote:
Remember the three young renters? They signed a one year lease in approximately August of 2004. Why are they no longer there? I will let these women speak for themselves but I will mention a few facts known to me. The renters claim to have been harassed by Mr. Pearcy, receiving multiple e-mails a day and frequent visits. Shortly after he discovered the Bush/Cheney sign in the window of their now-rental property, Mr. Pearcy, they allege, became upset and threatened to paint the entire house with Kerry's name among other things. Shortly thereafter, the tenants came home to find the five foot long "idiot" sign in their front yard and the Palestinian flag flying from the roof. When one tenant began to take pictures of the display Mr. Pearcy threatened litigation. Shortly thereafter there were no longer three nice young women living next-door. Apparently to Mr. Pearcy the first amendment only applies when it involves his words. Those who demand that all of their "speech" must be tolerated, no matter how offensive, while trying to intimidate those with a differing ideology could not be a better example of the word hypocrite.
I see no way that the Pearcy's could sue the renters for taking pictures of something that clearly caused them duress and emotional anguish. For anyone who finds that me saying they probably suffered from duress an outrageous statement put yourself in these girls position. They had to daily live and walk out of the home with these angry displays of protest that were put there by someone else and that they didn't agree with. I'm sure they talked about it amongst themselves and felt mental anguish over this act they had no control over. The fact that he would threaten them over taking pictures of his "protest" that he claims he wanted everyone to see is ridiculous.
As the letter writer said above he will let the "three nice young women" speak for themselves, and now one of them has.
Be sure to check out the Diggers Realm Stephen And Virginia Pearcy Archive for all of the coverage and photos of the full incident from start to finish.
If there are any readers out there with pictures or stories of the Pearcy's antics contact me and I'll tell you where to send them so that they can be put on the website.
* * *
Update: (Jul 1, 2005 3:10 PM PST)
Stephen Pearcy has responded to the claims made by the tenants above. You can view them at my entry here
Xrlq:
My initial reaction is to say that, of course, the California code is one of the most tenant-friendly in the country. I am neither a California lawyer nor a specialist in landlord-tenant law, although I had six years' experience as a tenant in California ;-). My comment addressed the broader common law tenets that are taught in law school and on the multi-state bar exam.
However, a review of section 1954(a) discloses that the landlord only commits a violation when actually entering the unit for a purpose other than that permitted by the statute. This is different from entering the grounds or the building, itself, which the landlord has license to do pretty much at will. My recollection of the above story is that the harassment took place about the grounds but not in the actual unit (I don't think that leaving harassing voice mails or emails counts as an intrusion under section 1954).
In the end, it would depend on the factual circumstances underlying the definition of "unit" in this case. Did they rent the whole house? Or did they rent a room in the house? If the former, then the case against the Pearcys is stronger. But if the latter, then the case is definitely weaker.
The foregoing would also apply to the applicability of subsection (c), although I think that more particularly I have not read any evidence that the Pearcys obstructed their tenants' access to the building.
This is not meant to defend what the Pearcys did, as I find their behavior to have been as reprehensible as the next person. But one rule in construing the law, especially where penalties or civil fines are involved, is that the prohibited conduct must be reasonably clear and unambiguous. A plain reading of this statute, in comparison with the conduct complained of, does not lead me to conclude that the Pearcys would be liable.
Posted by: SWLiP on March 3, 2005 07:06 PM