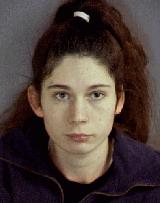 I don't know what to say about this. It's just strange.
Marianne Dahle, 26, surrendered at the Ada County Jail on a felony arrest warrant for aggravated battery. If convicted, she could be sentenced to 14 years in prison.

Dahle is accused of tying up the teenager and cutting away a 6-by-8-inch section of her scalp. She allegedly used a 4-inch knife to cut away the crown and back portion of the scalp.

The victim — who identified herself to reporters only as Sheila — said she underwent skin grafts and anticipated another surgery to repair the damage. Authorities did not release the girl's name.

Dahle was visiting Kirkham Hot Springs in central Idaho with the girl and a friend when the attack occurred Jan. 18. The teen spent two weeks in the hospital and is now recovering at home.

...

Sheila, who is from Nampa, near Boise, told Boise TV station KTVB that she thought the woman was going to cut her hair.

"Why would they do something like this to me?" Sheila asked. "I thought they were my friends."

...

"It was an act of revenge. I view this as a case where an adult female is using predatory control — both psychological and sexual — toward juvenile victims. There are definitely sexual overtones to this crime," [Bill Braddock, chief deputy of Boise County] said.
Other Commentary:
California Yankee
Backcountry Conservative
Ace Of Spades
The Moderate Voice

She must be subjected to a harsh punishment for this, a very, very long jail term as well as possible psychiatric incarceration. This crime is a crime of such savageness that surely this barbaric creature should not be allowed to walk amongst us, until a very, very long amount of time has elapsed.
Posted by: avae on April 10, 2005 07:53 AM
Hi Catherine,
Mary is my cousin. No one in my family ever considered her to be a "barbaric creature". She's a female human, similar in many respects to any one of us. What she did is wrong, and sick, but she needs treatment, not simple incarceration. Putting people in jail is basically throwing them away.
Posted by: Brook on August 3, 2006 01:14 PM
FUCK MARY JANE!!!! SHE IS A FUCKING PHYCO CRACK HEAD THAT NEED TO SPEND HER FULL SENTENCE!!! SHEILA IS MY BEST FUCKING FRIEND AND SHE FUCKED SHEILAS LIFE UP!!! NOW SHEILA HAS TO LIVE IN FEAR THAT THE DUMB PHYCO IS GOING TO COME BACK TO FINISH WHAT SHE STARTED!!! NO PNE SHOULD HAVE TO LIVE LIFE LOOKING OVER HER SHOULDER ITS NOT RIGHT!!! I HOPE THE DUMB CUNT ROTS IN PRISON FOR WHAT SHE DID!!!!
Posted by: BLONDE_MOMENT on November 14, 2008 01:41 PM
I think this bitch and her FRIEND should be PUT in jail and then killed burned or what have you. like England did when Queen Elizabeth was alive. It is not any way in hell fair that the bitch that helped this CUNT do this to her is still out there walking free. IN jail you go and I will find a way RUN BITCH RUN!
Posted by: MIne on January 18, 2011 07:24 AM