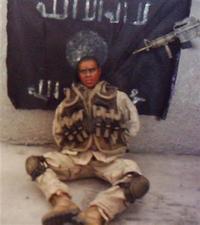 Terrorists tried to pass off a GI Joe doll as a hostage. As you can see in the photo to the right (click to enlarge) it is pretty obviously some sort of doll by the head alone. The blogosphere went to town ripping the photo apart.
Was this image planted on the site by a hoaxing hacker or did the terrorists do it in hopes it would not be discovered so they could plant hundreds of "US Soldier as hostage" stories in the future?
Tipped by: Backcountry Conservative who has an excellent "tick-tock" of events from begining to end of exposing the hoax throughout the blogosphere.
Major hoax exposers:
Wizbang
The Jawa Report
Outside The Beltway
A Small Victory who has a picture of the GI Joe doll used
Blogs For Bush with an interesting animated gif superimposing the dolls head.


Pretty sad that the terrorists think they can do something like this and not be found out. It is obviously a fake, and an insulting fake at that.
Posted by: James on October 29, 2010 03:04 PM