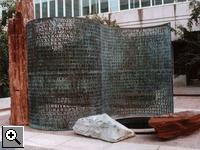 In 1990 artist Jim Sanborn put together a sculpture at the CIA called
Kryptos
(which is Greek for "hidden"). The sculpture consists of four coded panels and for nearly 15 years later one of the panels still has not been decoded. From the three panels that have been decoded it seems to hint at a something hidden on the CIA grounds. Sanborn says once all four are decoded that someone must be on the grounds of the CIA to solve the riddle.
There has been no progress since 1998 on decoding the sculpture. A CIA analyst, David Stein, cracked three of the panels back then and a year later a computer scientist, Jim Gillogly, cracked the same three panels using a Pentium II. There are still amateur code breakers out there trying to decipher the code, but there has been no progress in the past 7 years. The fourth panel consists of less than 100 characters
Sanborn may be referring to something he buried on the CIA grounds, though he's not saying. The decrypted text mentions a burial and gives latitude and longitude coordinates (38 57 6.5 N, 77 8 44 W), which Sanborn said referred to "locations of the agency." The coordinates, slightly altered, appear on the Da Vinci Code book jacket. Brown made the first number 37 instead of 38; he's said that he may reveal the reason in future books. Some sleuths have determined that the coordinates on the sculpture mark a spot on the CIA grounds about 150 feet from the sculpture. Others have placed it elsewhere, however.

...

The first section is a poetic phrase, which Sanborn composed himself. The second hints at something buried: "Does Langley know about this? They should: It's buried out there somewhere." The third section comes from archaeologist Howard Carter's diary describing the opening of a door in King Tut's tomb on Nov. 26, 1922.

...

Until now, only three people were said to know the solution to Kryptos. Sanborn, a CIA cryptographer named Ed Scheidt who helped him choose and alter the coding techniques for the sculpture, and former CIA director William Webster, who received a sealed envelope containing the solution, which sits in a CIA archive until the time when someone solves the puzzle.

But Sanborn told Wired News that Scheidt, now a retired chairman of the CIA's Cryptographic Center, and Webster only think they know the solution.
There is more discussion at Slashdot