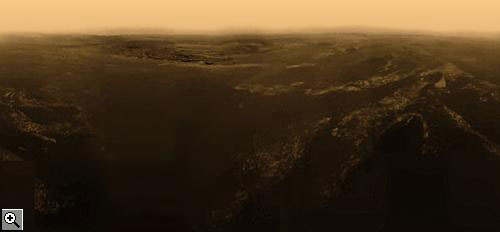 Stitched and colored image of Titan during descent as put together by Christian Waldvogel (via anthony.liekens.net where there are more images)
Composite of a 360-degrees view during descent, using 11 of the raw images. the raw images were corrected in brightness, scale and perspective and then stitched together. Missing areas on dark bottom and sky were completed with two-color-gradients. No information was added. Colors in the colored version were adjusted according to the ESA's colored surface view.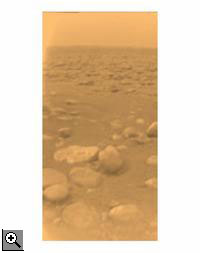 See more of the latest images over at Speed of Thought and Unscrewing The Inscrutable
NASA (Referring to image on right)
This image was returned yesterday, January 14, 2005, by the European Space Agency's Huygens probe during its successful descent to land on Titan. This is the colored view, following processing to add reflection spectra data, and gives a better indication of the actual color of the surface.

Initially thought to be rocks or ice blocks, they are more pebble-sized. The two rock-like objects just below the middle of the image are about 15 centimeters (about 6 inches) (left) and 4 centimeters (about 1.5 inches) (center) across respectively, at a distance of about 85 centimeters (about 33 inches) from Huygens. The surface is darker than originally expected, consisting of a mixture of water and hydrocarbon ice. There is also evidence of erosion at the base of these objects, indicating possible fluvial activity.

The image was taken with the Descent Imager/Spectral Radiometer, one of two NASA instruments on the probe.
Related on Diggers Realm