Ahh, the 80 second challenge returns. There's sure to be something you've missed around the blogosphere. See if you can get through these in under 80 seconds -- or 80 minutes for that matter.
(All links open in a new window for faster cruising)
Darleen from Darleens Place shows us her tits!
The Education wonks cover two ridiculous stories that occurred in schools. First is about a 10-year-old arrested and handcuffed for having a pair of scissors and the second is about a soldier who lied to schoolkids about shooting a 10-year-old Iraqi kid. Reee-damn-diculous.
Right Thinking Girl went to a christmas party at the White House, met President Bush and has the whole story.
Jeff, Dean and Chris are asking what your Google suggest number is. Mine is 5.4, Digger is 4.1 and Diggers Realm is 7.9
Blogs of War has an asinine piece on six reservist, two of which received bronze stars were court-martialed for canabilizing parts they needed during operations in Iraq. Total bullshit ruling!
California Yankee and James Joyner report on the Palestinian leader Mahmoud Abbas apologizing to Kuwait for supporting Saddams invasion during Gulf War I. Sincere? Seems like some ploy Moqtada al-Sadr would pull just before attacking coalition forces again.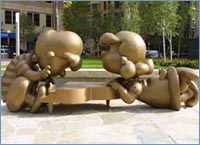 Captain Ed reports on a group calling bronze statues of Charles Schulz's Peanuts characters an eyesore and inappropriate for the historic setting of a park.
Oliver Willis has some interesting thoughts on Black youth being accused of "acting white" -- there are some excellent comments made by others there as well. Then he goes and loses all respect by asking what things can be used against John McCain in 2008 if he runs for President. A little early don't you think?
Lee at Right Thinking From The Left Coast brings us the lovely story of a 12-year-old British boy raping his teacher.
SlantPoint is kickin' with his homies in Jerusalem's old city and reporting back on da 'hood yo.
Join in on the Commissars Superhero's of the web entry, where Deadly Digger and Trickster are prominently displayed.
Momma Bear over at On The Third Hand was surprised to find that Iran is not going to give up their nuclear research.
Rightwingsparkle puts an ad in the Washington Post.
Hyscience tells us what Dioxin is and goes all Scientific Chemist on our asses.