| | |
| --- | --- |
| By / November 3, 2004 10:27 PM | |
Check out this cool map from
USA Today
that has the county by county vote results.
If you go to the link above you can see your states county by county results as well. They're also continually updating the map on their site as results come in.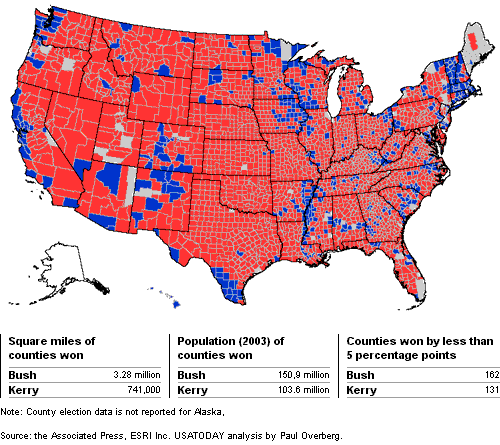 Tipped by: Outside the Beltway who also has the 2000 county by county map. Also Michelle Malkin

This entry is in the following archive(s):
Next and Previous Entries:
Posted by Digger on November 3, 2004 10:27 PM (Permalink)

You almost have to feel sorry for the Democrats in Oklahoma, Kansas and Nebraska. Almost.
Posted by: Chad Evans on November 3, 2004 11:04 PM
nah i dont feel sorry for them at all
its been along time coming...
Posted by: wally on November 17, 2004 05:23 PM
Yeah, imagine being the only educated person for hundreds and hundreds of miles!
Posted by: willy on February 16, 2007 10:22 PM