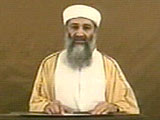 Fox News
just announced that Al-Jazeera claims to have a new tape from Osama Bin Laden and will air it shortly.
They did not specify if it was audio or video.
* * *
Update ( 12:16PM PST )
They have now said it is a video tape and that it is Osama Bin Laden directly addressing the American people.
* * *
Update 2 ( 12:45PM PST )
Al-Jazeera is said to plan to air the tape at 1PM PST (4PM EST). American intelligence has verified that it is indeed Osama Bin laden on the tape.
* * *
Update 3 ( 1:00PM PST )
Tape is 18 minutes long. He references recent events in Iraq, putting at least a recent timestamp on the tape.
* * *
Update 4 ( 1:05PM PST )
Bin Laden is ranting on previous terrorists attacks and says if Bush would have been more vigilant, September 11th, 2001 would not have been so devastating.
* * *
Update 5 ( 1:26PM PST )
CTV ( With the asinine headline "Osama bin Laden slams Bush in new videotape" )
Al Qaeda leader Osama bin Laden has appeared on a new videotape saying U.S. President George Bush has "deceived" Americans in the years since the Sept. 11, 2001 attacks.

Appearing just days ahead of the U.S. presidential election, bin Laden says the attacks would have been less severe if Bush had been more alert.

Al-Jazeera broadcast parts of the 18-minute-long tape Friday evening. The Qatari-based channel does not say how it received the tape nor how it has concluded that it is authentic.
In other related news the stock markets got a significant bump when the videos existance was announced and validated. Signs that the market feels this will help get Bush re-elected.
* * *
Update 6 ( 2:29PM PST )
Al-Jazeera is reporting they will have a subtitled version of the video on their website soon.
He accused Bush of reacting slowly to the September 11 attacks, saying: "I never thought that the supreme leader would leave 50,000 of his people in the two towers to face the terrifying events alone at the time they were in need for him."
* * *
Update 7 ( 4:55PM PST )
"We decided to destroy towers in America," bin Laden said, referring to the World Trade Center.

"God knows that it had not occurred to our mind to attack the towers, but after our patience ran out and we saw the injustice and inflexibility of the American-Israeli alliance toward our people in Palestine and Lebanon, this came to my mind," he said.

...

"Your security is not in the hands of (Democratic candidate John) Kerry or Bush or Al Qaeda. Your security is in your own hands," bin Laden said.

...

"It appeared to him (Bush) that a little girl's talk about her goat and its butting was more important than the planes and their butting of the skyscrapers. That gave us three times the required time to carry out the operations, thank God," he said.
Still awaiting a full transcript and subtitled video from Al-Jazeera...
* * *
Update 8 ( 5:00PM PST )
Red State, National Debate and The Command Post have the full transcripts.
The Politburo Diktat has opened his live chat for the night to discuss the OBL video.
Other Commentary:
| Rooftop Report | Powerline | Say Anything | SlantPoint | The Jawa Report | Right on Red | | The Command Post | Wizbang | Ramblings' Journal | Blogs of War | INDC | Stones Cry Out | Armies of Liberation | Blogs For Bush | A Small Victory | California Yankee | PoliBlog | Captains Quarters | Backcountry Conservative | Short Family | Pink Flamingo Bar And Grill | Truth Laid Bear |