Help find this missing 13 year old girl from Texas. If you're a blogger do the right thing and post it now.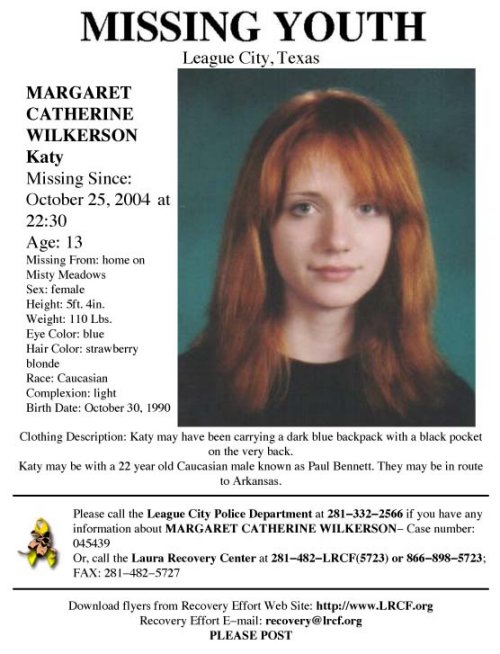 On Monday, Margaret "Katy" Catherine Wilkerson left her home in League City without her parents' permission. She is believed to have met up with a 22-year-old man she met on the Internet.

The man may be using the name "Paul Bennett." He apparently took a bus from his home in Washington to Denton, TX, where he has friends. "Paul" borrowed a red two door 1995 Chevrolet Cavalier with Texas license plate M47-ZJR to drive to League City and pick up Margaret. The pair is now believed to be somewhere in the Denton area

League City police and FBI are checking Margaret's home computer for additional information.

If you have any information, please contact the League City Police Department at 281-332-2566.
Original PDF of the flyer above
Brought to my attention by: Right Thinking From The Left Coast and an update here.
Lee at Right Thinking actually seems to have talked to the mother at one point in the past.
Regular readers of this blog might remember a flame war I had a couple of months ago with a reader named Calliope. Tonight I got an email from the fine folks over at Anti John Kerry who emailed me to tell me that Calliope's 13 year old daughter is missing, and an Amber Alert has been issued.
Damn. That's right in my backyard. Not League City, wherever that is, but Denton. I thought I heard on the news last night though that she was found.
Posted by: Chad Evans on October 28, 2004 07:39 PM
I'm Katy's mom. Not Calliope, however.
Posted by: Cindy Wilkerson on October 31, 2004 10:39 AM