| | |
| --- | --- |
| By / October 19, 2004 05:47 PM | |
I was so horrified when I looked in the sink and saw one of the mugs my best friend gave me was broken. There were two of them and they were matching (sorta like my buddy and me). The most ironic part of it all is that one of the mugs, which was drying in the Rubbermaid dish dryer thingy, fell into the sink when my kid was doing something and broke the other ones handle off.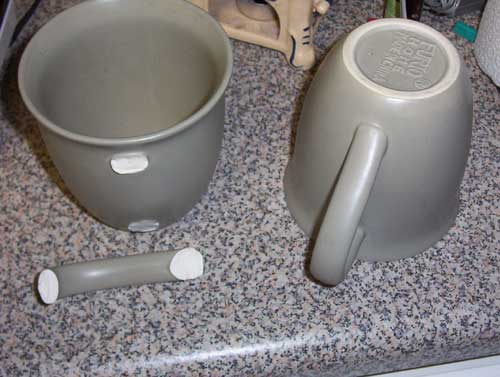 It was terrible because those mugs meant something to me. They were purchased when things were bright in my life and we both spent a lot of time working together, long into the night, on new and exciting things. To see one broken was like seeing how broken things became a few years after that period.
My buddy lives far away now and I haven't seen him in years, though we still keep in touch and I now have one less thing to remind me of the good times we spent together.

This entry is in the following archive(s):
Next and Previous Entries:
Posted by Digger on October 19, 2004 05:47 PM (Permalink)

Gasp! Get some superglue! Hehe!
Posted by: Tom on October 19, 2004 06:04 PM
Digger, damn man you got me all choked up over here. Just glue that puppy for gods sake!
LOL!
Posted by: David Anderson on October 19, 2004 08:56 PM
That should be 'exactly'. Damn keyboard.
Posted by: sortapundit on October 20, 2004 07:22 AM
Ahh! My comment didn't even post.
Anyway, that sucks dude. I know exactly how you feel.
Posted by: sortapundit on October 20, 2004 07:23 AM
Dammit, it gets worse. I just found another piece in the sink when I was doing the dishes. I doubt gluing them together will work with that many pieces.
It won't be sturdy enough for a full cup of coffee and I'd always be worried the handle would snap off spilling it everywhere.
:(

Posted by: Digger on October 20, 2004 08:05 AM
Digger, use super glue, with three kids it happens all the time here. Besides, it is the sentimental value. Put them both in a nice case where you can look at them and think of the good times you had together.

Posted by: David Anderson on October 20, 2004 10:20 AM
Use Super Glue, but here is the trick... Apply moisture to the areas you want to bond. Super glue is a moisture cure. It works much better when the surfaces are wet or moist before bonding. That is why they use it in surgery, I might add. That is also why skin bonds so well. The oils in your skin make the bond much stronger. Later from Dan
Posted by: Dan on October 20, 2004 05:24 PM