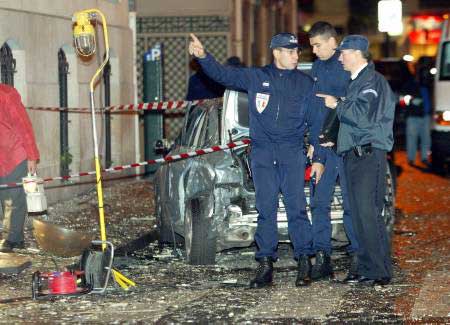 The Indonesian embassy in Paris was bombed, apparently by a package left outside the building.
A bomb has exploded at the Indonesian embassy in Paris injuring up to 10 people including embassy staff. French radio said the blast occurred on the ground floor of the embassy, located in the exclusive 16th district of the capital.

Four staff members are reportedly among those injured.

The bomb was apparently contained in a package left just outside the embassy. Windows in neighbouring buildings were shattered by the blast.
The response from the French should be interesting. Granted it wasn't directly against one of their personally important buildings like the WTC was to America, but could this possibly wake them up to the fact that their take on terrorism is not the correct one and now has proven to not be working?
* * *
Update 1 (Oct 8 12:37AM PST)
The explosive device was in a parcel planted at the base of a flagpole outside the embassy, French Interior Minister Dominique de Villepin said.

...

Indonesia's president-elect, Susilo Bambang Yudhoyono, said the blast was a terrorist act.

"I strongly condemn the terrorist act done at the Indonesian embassy in Paris," said Mr Yudhoyono, who is to be sworn in later this month.

"I do hope the government of France will take appropriate action to bring the perpetrator to justice," he told reporters

...

Mr de Villepin said he was not aware of any specific threats but the blast was "obviously an act with criminal intent".
* * *
Update 2 (Oct 8 12:52AM PST)
President Jacques Chirac, on a visit to Hanoi, reassured Jakarta of France's support following the blast.

"All means will be deployed to shed light on this criminal act," he told the Indonesian representative at an Asia-Europe meeting, Dorod Jatun Kundjoro-Jakti.
* * *
Update 3 (Oct 8 1:31AM PST)
"We do not want such bomb blasts to worsen Indonesia's image in the international forum," said Hidayat Nurwahid, the newly appointed chairman of Indonesia's parliament, the People's Consultative Assembly, and head of a Muslim political party. "We don't want people to link the bomb blast with Islam and Muslim people around the world."
Little late for that bubba. Muslim people running around bombing stuff and cutting off peoples heads doesn't exactly make your religion look that good. The Bali, an Indonesian island, nightclub bombing didn't make it look so hot either.
Developing...
Other Blogging:
| Right on Red | In the Bullpen | In Search of Utopia | Blogs of War | Right Thinking From The Left Coast | Interested-Participant | Backcountry Conservative |
Crossposted at The Command Post