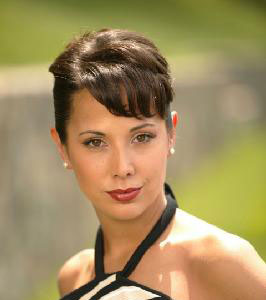 Jennifer Crisafulli, fired on the latest episode of
The Apprentice
by Donald Trump has been fired again. This time by here real world job as a Real Estate Agent.
An official with the Manhattan firm Prudential Douglas Elliman said Thursday that Crisafulli, a 32-year-old real estate agent with the firm, would not be welcomed back because of comments she made on Wednesday night's episode of "The Apprentice."

Crisafulli, who now lives in Manhattan, made remarks that were perceived by some as anti-Semitic.

...

"It was those two old, Jewish fat ladies," she told teammates. "Really. They were like the pinnacle of the New York jaded old bags."

...

"We do not intend to have an individual in our organization who subscribes to this point of view," Steven James, Elliman's senior vice president and executive director of sales, told the Times Union on Thursday night. "They are not wanted. They are not needed."

...

"I'm so upset," she said. "I mean, my career is gone."

"I feel terrible about this. I hope people don't think about me in the wrong way." Crisafulli noted after the show that she has Jewish relatives; she stated as much on-camera, she said, but her comments were edited out. Crisafulli re-iterated the assertion Thursday morning on the "Today" show.
I think this is ridiculous. There have been numerous jokes made about "bantering yentas" and the like by comedians for years and years. Some people just can't take a joke. Granted I thought she was a loser and bad business person. Here actions on the show deserved the "firing" Trump gave her, but getting fired for her lame attempts at a joke is insane.
Here's a funny webpage of one of her listings.
Her profile on The Apprentice Website.
Her webpage www.jennifercrisafulli.com
Hat tip: Wizbang