Mount Saint Helens is spewing steam out, creating a huge cloud. Recent quakes near the mountain have caused speculation and predictions that it is going to erupt soon. With this latest steam cloud it seems that it is imminent.
Update:
Volcanologist on Fox News is calling it a definite eruption. Even a steam jet is considered an erruption, apparently.
For some past information on this see:
| Jawa Man | Blogs Of War | San Diego Union-Tribune |
Update 2:
Dark ash clouds now spilling out. Seismologist says that this small eruption could continue for months.
See the Mount St. Helens Webcam
Update 3:
Where is Mount Saint Helens? MSN Mapoint Interactive Map.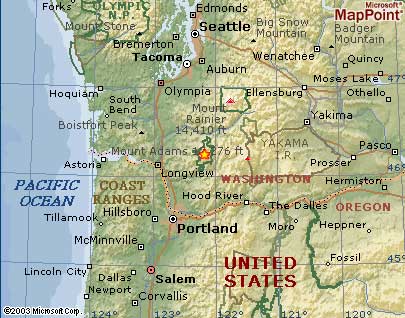 Update 4:
Forest For The Trees is live blogging the event.
Say Anything has more info.
Blogs of War has coverage as well.
"This is exactly the kind of event we've been predicting," said U.S. Geological Survey scientist Cynthia Gardner.

A few minutes after noon, the steam cloud poured from the southern edge of a nearly 1,000-foot-tall lava dome in the volcano's crater, where a large section of glacier had fractured and risen since Thursday afternoon. After about 20 minutes, the mountain calmed and the plume quickly dissipated, heading south-southwest.