The indicted kidnapper and beheader of Daniel Pearl was gunned down while charging Pakistani law enforcement officers with grenades in Nawabshah, a southern town in Pakistan.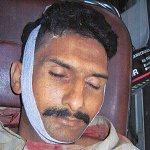 Amjad Hussain Farooqi, a suspected top al-Qaida operative, is seen dead in this handout picture released by Pakistan Information Ministry
Via
VOA
Pakistan says security forces have killed a top al-Qaida militant who was allegedly involved in two assassination attempts on President Pervez Musharraf, a close U.S ally in the war on terrorism.

Officials say that one of the country's most wanted men, Amjad Hussain Farooqi, was killed in a gunfight with security forces in the southern Pakistani town of Nawabshah. The man had a price of more than $300,000 on his head...

"He was killed in an encounter when he tried to charge [personnel of] the law enforcing agencies with grenades. He was a known terrorist and a proclaimed offender and was involved in a number of terrorist activities.

...

The 30-year old al-Qaida suspect was also indicted in the kidnapping and beheading of American journalist Daniel Pearl in the city of Karachi in 2002.
The article also states that they have detained 3 of Farooqi's associates and they are being
interrogated
for information.
One less evil bastard in the world. It's just a shame they didn't take his head off with some gunfire.
Others on the case: | My Pet Jawa | Alpha Patriot | In The Bullpen | Blogs Of War | Backcountry Conservative | The Command Post | Outside The Beltway |