WTF!!
Who's bombing New York City? The Russians?
That was all I could think of when my wife's niece, who was staying with us temporarily, came flying out of the bedroom. I had been awake all night, as usual, working on some programming project or other that escapes my mind. The project quickly became a worthless concern as she turned on the TV and there were streams of smoke coming out of the side of the World Trade Center.
This was the beginning of a 3-day marathon of hellish, emotional laying in front of the TV. What else could I do? I couldn't get up and run to New York City to help out, I'd just get in the way, plus it was 3000 miles away on the other coast. I'm originally from New York, the upstate part, not the city, but I have a lot of family in that state. I was constantly going over in my mind who might have been in those towers, possibly business partners who occasionally made trips there on business, possibly my distant family?
It seems silly now that the first thought that came to my mind was the Russians. I'm one of those born in the early 70's, that grew up in the 80's with "the Evil Empire". Granted there had been other attacks on the US abroad, but never at home and I had no clue who would want to deliberately attack us in such a fashion.
The plane hit the Pentagon and that sent my brain flying. I'm a military brat, my mother was Army, my father Air Force. I of course went in the Navy, at 17, since I had to attempt to complete the circle of branches. I have a lot of military friends. My father taught at the Pentagon at one time, could he have possibly been in there for some odd reason, some twist of fate?
All of these thoughts went through my head as I watched. I was working at home, so unlike those who had to try and continue going off to work with these thoughts on their mind I had the benefit of watching things unfold throughout the days.
Was this just a start to the true attacks? Did they take out the Pentagon to slow our military reaction to their landing in Alaska like in Red Dawn? Silly boy, what do the Russians have against us, we've been trying to help them.
As the word filtered in on it being Middle Eastern terrorists the first thing I thought was no way are they that coordinated. How could they possibly have hijacked not 2, not 3, but now 4 planes as I heard about the missing plane having been downed in a field in Pennsylvania. Surely they couldn't get past all the screening at the airport. Hell, our CIA and FBI kick ass, they're "all knowing", it could never happen.
My wife came and went, to and from work. She slept. Her niece slept. I did not. I used my uncanny ability to stay awake for 4 days at a time, from all my programming experience, to stay glued to the latest. I did nothing, except drop the kids at school and pick them up.
Dropping the kids at school was an experience unto itself. The first time, I gave them a slightly bigger kiss than I normally do. Could this stuff happen in California? At a school?
Venturing outside the house was a strange sort of feeling. Going to the supermarket I remember passing all the newspaper machines, each with their pictures of hell on the front. People seemed more zombie-ish to me as they went about, with a kind of weird waxy look on their faces, false emotions of normalcy. Maybe I'd been up too long and was just hallucinating?
He swaggered. Across a rubble-strewn scene, he swaggered. His arm went around a fireman and from somewhere came a bullhorn. This indelible image I had the benefit of watching live, as a President of the United States gave the most impressive speech I have ever heard. It wasn't so much of a speech however, the words didn't seem planned. He was just some old guy standing there with people who had been directly attacked in their backyard, their friends and family crushed and burned to death in the wreckage behind him.
The man stood there as a fireman shouted out "We can hear you Mr. President". He yelled back "And I hear you. And those who knocked down those buildings are gonna hear from you too!". I cheered at the TV as the firemen chanted "USA! USA! USA!" in the background. Having grown up in the military, I knew someone was about to get their ass kicked. In the frequently uttered words of our president "Make no mistake about it".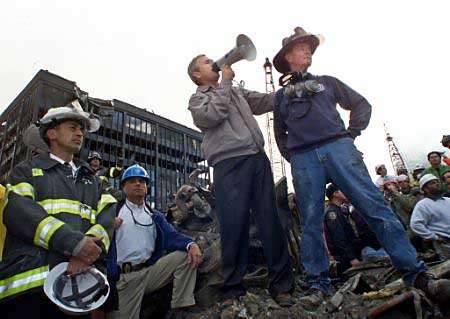 This story was done for part of the In The Bullpen "Where Were You" series.